Some of the most beloved 90s trends have made a loud reemergence into high fashion. Many of the industry's top brands have incorporated metallic, sheer, chokers, overalls, sneakers, baggier jeans and cinched pants into their lines. The past few seasons reintroduction of 90s motifs has paralleled an appropriation of urban, hip-hop fashion as well. Brands like Chanel have incorporated stereotypically black hairstyles, inciting uproar on the internet.
While the 90s revival brought back color blocking, jellies, and cropped shirts into high end, avant-garde stores like Opening Ceremony and Barneys, designers capitalizing on nostalgia have erroneously misused urban trends, once deemed "ghetto" and low class, and marketed them to affluent white buyers. This is done without crediting the source of the trends and disregarding the associated human experiences of the groups who originally sported the look. After decades of ripping apart trends like baby hairs, braids, bandanas and athletic wear, designers and retailers are exploiting these styles and rebranding them as edgy and desirable.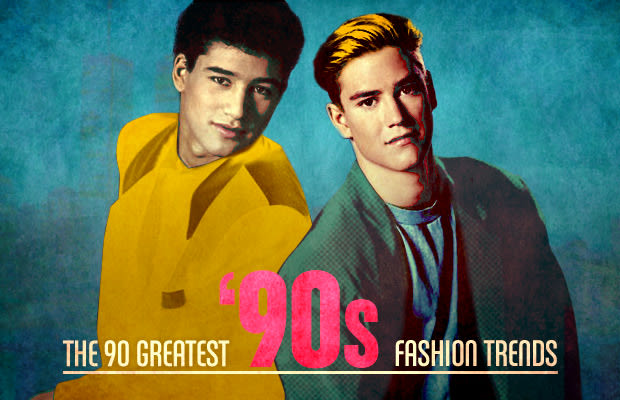 Put another culture's style on a model or celebrity, rebrand it as bold or edgy, and suddenly it receives attention and is viewed as innovation. The juxtaposition is ironic and offensive since these people would never normally sport this kind of look—because on a black person it is deemed "ghetto"—but in these instances is it edgy or avant-garde because a white model is wearing it for shock value?
When overlapping cultures continually appropriate and use aspects of "others," even with a lack of applicability to it, the historical and cultural importance of this aspect is diminished as it is used for entertainment.
A recent Google Glasses advertisement with artist FKA Twigs, sporting the same baby hairs from the DKNY show, uses this aspect of hip-hop culture to market a nerdy, tech product to a young and hip buyer. DKNY rebranded gelled baby hairs—a hairstyle specific to black women—as Urban Fabulous Hair, after years of the media telling black women that white, straight hair was accepted as fabulous. Similarly, Chanel rebranded du-rags as Urban Tie Caps. While black men have been subject to profiling and stereotyping for wearing "Urban Tie Caps," models can now sport du-rags and be a representation of high fashion. The egregious error here is disregarding the white privilege that enables an advantaged, historically oppressive culture to take integral parts of a culture—which they lessened—and wear it, completely out of context, for "art" and entertainment.
Music is an intersection of mass appropriation and influence, dictating what men and women should wear and what specific styles signify. The overwhelming negativity directed towards femininity encourages white men to adopt the attitude and dress of their African American counterparts because masculine trends like "swag" command respect. Especially in music, white artists, regardless of their upbringing, mimic the lifestyles of impoverished neighborhoods, surrounding themselves with black "friends," setting music videos in spaces specific to "poor neighborhoods" or including boom boxes and chains.
On the contrary, black artists, specifically rappers, often idolize upper class lifestyles of successful white people, singing about watches, yachts, champagne, and suits. hite people are in search of the authenticity of black culture while minorities are trying to achieve what their oppressors have made the symbols of success and prosperity. It's completely different when Jay Z raps about a Tom Ford suit or Kanye West about Alexander Wang, and Donna Karan gelling model's baby hairs in her SS15 show in September. The difference is that due to the centuries of imperialism, slavery and orientalism, white western culture has established itself as the dominant culture, othering and dismissing other cultural practices as uneducated, classless or distasteful. Therefore, it is no surprise that minorities would hold white success symbols in high regard because white culture has been forced on everyone since Christopher Columbus reached North America.
When designers like Alexander Wang brought athletic wear into high fashion, they were praised as creative geniuses by editors and celebrities. But, when urban minorities wore track suits and windbreakers, the trends were dismissed as lazy and unkempt. Also just as Timberlands—created as rugged work boots—are now worn by people who have never and will never complete the arduous work for which the boots are equipped.
Adidas branded tracksuits—easily identified with 90s hip-hop culture—have become part of a "norm core" revival, along with stone wash jeans and Nike tube socks. Some attribute the normcore
fad to the present ubiquity of high-fashion trends through stores like H&M and Zara, which mass-produce imitations of designs from major fashion houses. This is another force driving appropriation: people with resources, who want to look cooler than trends that are now easily accessed, turn to hip-hop or skate culture and shop their style habits for new trends.
The tremendous success of Shayne Oliver's line "Hood by Air" attests to the resurgence of urban streetwear and hip-hop style in high fashion. The line—producing both basics plastered with hyperbolic HBA logos and ready-to-wear pieces inspired by basketball and hip-hop trends­—are sold exclusively at ultra-high-end retailers like Barneys, where pieces like cotton/polyester pullovers and t-shirts with zippers run upwards of $600. Retailing in locations like Barneys—where the profile of young shoppers is likely upper class and white—perpetuates the cycle of appropriation and orientalization.
Sales people working for Barneys and HBA designer Shayne Oliver attribute the brand's overwhelming success to both the designer's artistry as well as the influence of celebrities like Kanye West—whose affinity for the brand has directed his fans, likely the young, affluent white ones, to the line. Likewise, friends in dance and performing arts have lauded the designer as a creative genius, who produces the "it" clothing that people, especially in New York and Los Angeles predominantly care about. Again, wearing edgy urban wear with black or inner city connotations is a reflection of the desire for white people to gain authenticity and cultural capital, to feel respected by appropriating minority culture.